I haven't posted for a while, I've had my sister over from South Africa and it's been 10 years since I saw her last, and most likely to be 10 years before I see her again judging by the reports of a hideous flight back.
As it's school holidays and very hot, my daily styling has mostly involved jandals and shorts so fashion posts are a little few and far between.
"So Stylie" also applies to interiors and as I'm always taking photos of other peoples homes, I've decided to share with you the clever ideas I come across. These photos form a scrapbook, especially capturing the ideas I'd like to use one day when I have my own home to decorate.
The photos below, I took at a friend of my mums, when my mum did a little house-sitting. I couldn't resist capturing some of the clever displays and crafty decor ideas they have used. I had been inside this home once before and remember how vibrant and alive it felt.
Living in New Zealand I also love seeing how people incorporate the culture in their decor and there are some distinctive examples of NZ style in these photos. The owner also shares my love of all things Mexican, Dia de las Muertos and Frida Kahlo.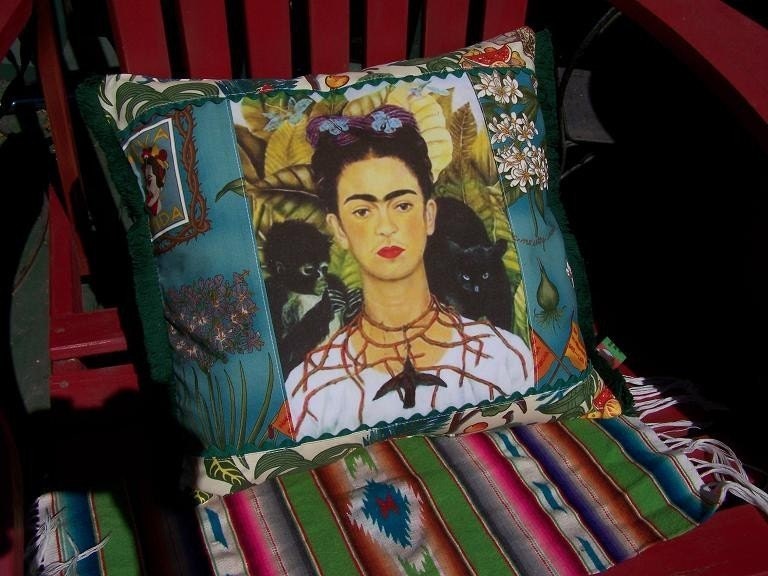 http://www.etsy.com/shop/RanchoRomantico has some very gorgeous cushions if you're a fan of Frida
.
Clever display ideas to Borrow
Home is where the Heart is
Love this Clock especially against this wall colour
Great example of mixing Contemporary with Vintage


Outside is equally as vibrant, and I love the addition of the orange birdbath, whether that was intentional or not I'll have to investigate.
As it was just after Xmas, there were still some very subtle and stylies Xmas touches around the place.
If you see anything you like please let me know and I will try and find out where it was purchased from. Remember Sharing is Caring.